Keyboards have come a long way and evolved immensely in terms of functionality, size, layout, and other characteristics. The evolution has been driven by modernization and the need to perfect the keyboard experience, more so when typing or gaming. As a result, low profile mechanical keyboards came along, and they have now become favorites in the market, especially among the gaming community.
What Is a Low Profile Mechanical Keyboard?
A low profile mechanical keyboard is a keyboard which uses mechanical switches that are lower in height than those of traditional keyboards. Low profile mechanical keyboards are thinner, lighter, and more compact than their traditional counterparts. Drawing inspiration from laptop keyboards, manufacturers try to replicate and improve a similar architectural and ergonometric model.
Besides the keys being smaller, the keys are made to have a shorter travel distance and a shallower actuation distance. These qualities make the keyboards faster and more comfortable to use.
The optimization of keys and the thought put into the performance of these keyboards makes them perfect for gaming and prolonged typing.  
What is TenKeyLess (TKL) Keyboard?
A TKL keyboard is basically a keyboard that does not feature a numpad on the right side.
There are multiple reasons people buy keyboards. If you want a keyboard for typing in the office, a numpad is a good idea. But if you want to utilize a keyboard for gaming purposes, then a numpad is not really necessary.
The keyboard is effectively shorter and more compact without a numpad. This creates more room for the mouse, and you can reach the mouse with much ease. Such convenience as enabled by a TKL keyboards conserves a lot of time and energy. With a TKL keyboard, you can game for long hours without getting tired.
TKL keyboards come in different sizes depending on the key layout and the number of keys.
Some of the most common classifications are, 65%, 75% and 80%. A smaller percentage indicates less keys. For instance, you will find that 65% keyboards utilize a fn key instead of function keys. Users can combine the fn key with other keys to perform various commands, like taking screenshots.
Due to the demand of these new generation keyboards, manufacturers have not held back. The market has flooded with multiple brands of low-profile mechanical keyboards, and this gives shoppers a hard time.
We have taken our time to come up with a list of the best low profile mechanical keyboards. To achieve this, we have compared multiple brands and models, looking at many factors, like build, functionality, lighting, connectivity, price, and usability. Have you been searching for the perfect low profile mechanical keyboards to spice up your typing or gaming experience? Here are 6 options that will not disappoint you.
---
---
---
---
---
---
---
6 Best Low Profile Mechanical Keyboards
The Best Overall
Corsair K70 RGB MK.2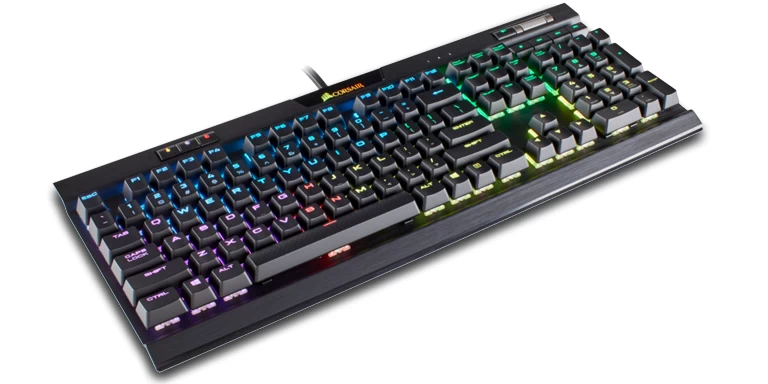 Form Factor: Full Size
Number of keys: 104
Weight: 1.08 kg / 2.38 lbs
Dimensions: 437.90 x 167.89 x 28.96 mm / 17.24 x 6.61 x 1.14 inches
Connectivity: USB 2.0 Type -A
Lighting: RGB

Adjustable height

: Yes
Media control buttons: Volume node, and dedicated hotkeys
The K70 RGB MK.2 is built with durability, performance, and aesthetics in mind to give that stunning, full-on experience when gaming. The comfort and optimal functionality this low profile keyboard offers are some of the reasons why it is number one on our list.
Features and Benefits
The Corsair K70 RGB MK.2 has been designed to provide optimal comfort with great actuation to enable you to game for hours without fatigue. Its Cherry MX RGB red switches are smooth and operate with an actuation of 1.2 to facilitate minimal effort while gaming. Its incredible slim body and layout ensures that it blends perfectly into a modern desktop setup giving it a functional and appealing look. The keyboard's slim nature also allows for easy packing when planning to travel. The keyboard comes with multiple USB ports just in case you want to connect to more gadgets.
Corsair K70 RGB MK.2 comes with full RBG Backlighting to add the ultimate kick of glory to your gaming experience. With this lighting in place, you can game in dark spaces without the need for extra lighting. The feature comes with customization capabilities which allows you to match your gaming setup and mood. This is made possible by the powerful CORSAIR ICUE software which also facilitates compatibility with all Corsair components. The low-profile keyboard features aircraft grade anodized aluminum frame that provides impressive durability. The aluminum finish also gives it a sleek finish that beautifies your gaming station.
The keyboard also comes with a detachable wrist rest that is soft on your skin to ensure you won't get tired from gaming for long hours. With all the Corsair K70 RGB MK.2 offers, the keyboard is perfect for gamers who desire the best when it comes to full on functionality, performance and style.
The Budget Choice Full-size
Corsair K60 RGB
Form Factor: Full Size
Number of keys: 104
Weight: 0.88 kg / 1.94 lbs
Dimensions: 457.2 x 457.2 x 50.8 mm / 18.00 x 18.00 x 2.00 inches
Connectivity: USB 3.0 or 3.1 Type -A
Lighting: RGB

Adjustable height

: Yes
Media control buttons: FN shortcuts media control and WIN Lock
The Corsair K60 RGB is our pick for a budget full size experience, especially if you plan on gaming for long hours. Its sheer quality and low-profile build offers a great level of comfort.
Features and Benefits
The keyboard has very slim, highly aesthetic look with impressive style. Its aluminum frame is anodized to give the keyboard an incredible, modern finish as well as increase its longevity. While the keycaps are made of ABS, they do not wobble so you will never feel like you are using a cheap keyboard. When it comes to the ergonomic suitability, the keyboard has a minimum incline of 2 degrees and a maximum of 8 degrees. This feature gives you ergonomic freedom to reduce chances of getting fatigued.
The keyboard comes with full RGB backlighting, with easily controllable brightness. If you need to customize the colors, you will need the Corsairs ICUE software for both MacOS and Windows. With the same software, you can macro program all the keys to reach the potential you desire.
The Corsair K60 RGB has excellently responsive linear cherry MX speed switches to ensure minimal effort when using it. Its keys cause minimal noise, making it an ideal choice for an office setting. The keyboard comes with a nondetachable cable of 6 ft long to ensure that it reaches your desktop however spaced out your desk might be. It features a windows lock key to ensure you do not accidentally minimize your game.
The K60 gives a phenomenal gaming experience because its RGB lighting synchronizes with game actions and real time events when playing ICUE integrated games. The keyboard also features NKRO functionality that registers all keys despite your typing or gaming speed.
With all these features, the keyboard is ideal for both office and gaming use.
The Budget Choice TKL
GMMK 87 Keys TKL
Form Factor: TenKeyLess (TKL)
Number of keys: 87
Weight: 1.13 kg / 2.5 lbs
Dimensions: 335.28 x 129.54 x 35.56 mm / 13.2 x 5.1 x 1.4 inches
Connectivity: USB-C
Lighting: RGB
Hot Swap: Removable Switches and Removable Keycaps
Our list would not be complete without capturing the Glorious GMMK 85% TKL for those looking for a great TKL option on a budget. Despite it's cheaper pricing, the glorious keyboard has an amazing design, functionalities, and overall build quality that are sure to excite all gamers.
Features Benefits
The first notable functionality about this budget keyboard is that it comes with hot swap capabilities, meaning you can plug in and out switches easily in a matter of seconds. This allows you to customize the board freely without the need to solder. Its impressive that even with the low price, the keyboard comes with full RGB lighting, 16.8 million colors. You can customize the lighting according to your mood, using the GMMK software. As if not enough, you can come up with some exciting light patterns just by utilizing the hotkeys.
The keyboard utilizes standard ANSI layout and standard bottom row, meaning that you can seamlessly customize it with third-party keycaps. Not only can you use the GMMK TKL for gaming but also for typing purposes. This is because the keyboard comes with Gateron brown tactile mechanical switches. Given that these switches make no sound, they are highly suitable for an office environment.
For easy reading, the barebones switches are compatible with RGB SMD LED to allow you type in the dark without need for extra light. Even more, the keyboard allows you to select between clicky, linear, or tactile capabilities depending on how you want to use it. The keyboard has an aluminum plate atop ABS plastic. This combination offers a perfect build combining impression, fine sound tuning, and durability. The finish also gives the keyboard a premium feel such that you can't really tell it's a budget keyboard.
The GGMK keyboard comes with inbuilt stands which allows you to change the angling of the keyboard depending on your ergonometric preferences. The fact that its front is thin means that you don't really need a wrist rest when using it. But in case you do, you can acquire one from Glorious store. Many users applaud the keyboard for offering premium characteristics for a smaller price.
The Best TKL for Gaming
Keychron K1 87 Keys TKL
Form Factor: TenKeyLess (TKL)
Number of keys: 87
Weight: 0.94 kg / 2.07 lbs
Dimensions: 427.99 x 149.1 x 36.07 mm / 16.85 x 5.87 x 1.42 inches
Connectivity: Bluetooth, USB-C
Lighting: RGB
Battery: 2000mAh Rechargeable li-polymer
For many years, keychron has been recognized as one of the best manufacturers of top-quality keyboards and accessories. Keychron has a plethora of low profile keyboard releases, and each has its unique qualities that makes it stand out. Here we have decided to go with the k1 low profile keyboard which utilizes the minimalist TKL design. We regard it as the best option for TKL gaming.
Features and Benefits
The K1 keyboard uses the TKL design that is considered best for gaming settings as it conserves space and allows for long hours of gaming without fatigue. The TKL design also offers more advantages like increased portability. With its aluminum body, the keyboard is highly durable and aesthetically pleasing. Another amazing factor is that its Bluetooth functionality can connect to 3 devices simultaneously. With this functionality, you can connect the keyboard to different devices, including your smartphone, and switch among them seamlessly. The Keychron optical switch version has hot-swappable feature that enables instant customization without the need for soldering.
The keyboard has Gateron switches with 2.5 mm travel distance, an actuation distance of 1.5 mm, and only 50 g actuation force, making it one of the easiest keyboards to operate. The quality of the keys and the design gives the KI a life of around 50 million keystrokes, which is very ideal especially if you are a gamer. It is worth emphasizing that the NKRO (for wired mode) and 6KRO (for wireless mode) functionality makes the keychron K1 stand out over many competitors. The feature means that keys are scanned and registered independently, ensuring unmatched accuracy when multiple keys are being held simultaneously.
The Best TKL
Roccat Vulcan TKL Linear
Form Factor: TenKeyLess (TKL)
Number of keys: 84
Weight: 0.66 kg / 1.46 lbs
Dimensions: 360.00 x 133.30 x 34.00 mm / 14.17 x 5.25 x 1.34 inches
Connectivity: USB-C
Lighting: RGB
Initially the Roccat company based in Germany was popular for its great gaming mice. But it extended its production to low profile mechanical keyboards. These keyboards come with top quality build and stability. Its phenomenal features compel us to rank it as the best TKL.
Features and Benefits
The Roccat Vulcan TKL keyboard has a plastic body bolstered with an anodized aluminum top which gives it better durability and a stunning impression.
Its unique linear titan feature developed by Roccat gives the mechanical switches an actuation which is considered one of the best in the market. The titan switch mechanical function comes in linear and tactile variants. The linear option has an actuation of 1.44mm and travel distance of 3.6 mm while the tactile option has an actuation of 1.8 mm and a similar travel distance.
Roccat describes this functionality as 30% faster than the standard speed for the linear option, and 20% faster for the tactile option. With the tactile option, you will feel a definitive bump but without a sound, adding some kick to your gaming experience.
The keyboard's TNK form factor provides more space for the mouse movements, giving you better aiming accuracy as you play your favorite games. The Vulcan's anti-ghosting functionality facilitates registration of each and every key making it ideal for playing games that require rapid keyboard action. The mixer style design media control functionality makes it easier to regulate volume as well as mute and unmute instantly.
The keyboard comes with a phenomenal AIMO lighting with a whooping 16.8 million colors. The feature reads the colors illuminating compatible devices and intelligently configures the same automatically. But you can customize the lighting as much as you'd want using the unique Roccat Swarm Software. The software also enables you to redesign new macros as well as reassign the keys to suit your changing needs. The keyboard's USB connectivity cable is detachable, making it highly convenient when it comes to storing and transporting
Thanks to all these impressive designs and functionality features, Vulcan has earned a position for itself in the market as one of the best keyboards ever made.
The Best Preminum
Logitech G915 Wireless
Form Factor: Full Size
Number of keys: 109
Weight: 1.65 kg / 3.63 lbs
Dimensions: 474.98 x 150.11 x 22.1 mm / 18.7 x 5.91 x 0.87 inches
Connectivity: Bluetooth or LIGHTSPEED Wireless
Lighting: RGB
Battery Life: 30 hours
Are you looking for the full-on premium experience? The Logitech G915 Wireless is a full-size keyboard that is well known for its low latency and impressive performance.
Features and Benefits
The Logitech G915 utilizes wireless technology that reduces cable clutter on your desktop setup. The wireless feature also increases efficiency and flexibility because you have the freedom to move the keyboard around or place it on your lap as you may deem comfortable.
The G915 still comes with a detachable cable for those who prefer wired settings. Despite being wireless, the Logitech comes with super-low latency (1 ms) to enhance the typing and gaming experience. The amazingly low latency is one of its most outstanding features as compared to other wireless options. The keyboard has aircraft grade aluminum alloy frame to offer maximum protection against physical damage, wear and tear. The aluminum frame not only adds to the keyboard's durability, but also makes it look attractive, sleek, and solid.
The Logitech G915 allows you to choose between profiles to suit your specific needs. The options for this keyboard are linear, tactile and clicky switches. The keyboard comes with impressive actuation (50 g force) and a travel distance of 2.7 mm across the switch profiles. This quality coupled with an actuation distance of 1.5 mm gives this low-profile switch keyboard one of the best premium feels.
When it comes to lighting, the G915 has intelligent LIGHTSYNC RGB technology with preset effects and full customization capabilities. With this functionality you can unify a theme to match your station and enhance you gaming experience in an immersive manner. The keyboard utilizes the Logitech G HUB software to facilitate customization.
With the sleekness, functionalities, durability, and everything else this keyboard offers, its expensive price tag does not come by surprise. But despite the price being on the higher side, the Logitech G915 is still one of the best sellers.
Guide to Buying the Best Low Profile Mechanical Keyboards
As noted earlier, there are numerous low profile mechanical keyboards. Given that manufacturers are mostly competing for similar specs, selecting the best keyboard is not a walk in the park. More so because you have to choose a keyboard that satisfies your taste and is compatible with the other peripherals at your desk.
Consider the following factors when shopping for a low profile mechanical keyboard
The Keyboard Size
Keyboard size is one of the main factors because you have to look for a size and design layout that you are comfortable using. When determining your ideal size, think about the space available at your desk, the primary use of the keyboard, among other factors.
You should ask yourself if you need a full-size, compact, TKL or an ergonomic design.
Full size keyboards- As the name suggests, full size keyboards have all keys, including a numpad on the right. Choose this one if you plan to use numbers regularly. For example, a full-size keyboard is a great option for an accountant.
Compact keyboards are those keyboards that have been modified to achieve a smaller size than full size keyboards. They can be 75%, 65% or more depending on the number of keys. The keyboards contain essential keys and may have shortcut keys as well. Mostly they lack function keys, numpad. 
TKL keyboards do not have a number pad. They are compact and ideal for many types of users, including gamers.
Ergonomic keyboards capitalize on the design to prioritize your comfort during usage. They want you to remain as natural as possible to avoid straining your body. Split keyboards and keyboards with adjustable elevation are good examples of ergonomic keyboards.
The Keyboards Connectivity
If you are mindful about cable clutter, consider going for a wireless keyboard. But you have to ensure the keyboard has been optimized for low latency. Wireless keyboards for gaming are very popular because they facilitate comfort and user friendliness. For instance, you can place the keyboard on your lap without having to think about cable length.
If you are going for a wired keyboard, ensure that the connecting cable is long enough to reach your desktop depending on your desk arrangement. You should also select a PC case with enough ports to accommodate the keyboard.
Color of the Switches
You have to consider the type of switches that work for you. The most common ones are linear(red), tactile (brown), and clicky (blue). While there are thousands of options for normal keyboards, low profile mechanical keyboards have limited selections because they have to maintain the integrity of their low profile identity.
RGB Lighting
RGB lighting is incredibly popular because of the glamor and aesthetics it brings to the table. The lighting brings your keyboard to life and gives it character, taking your gaming experience to the next level.
You do not have to worry much about this factor because RBG lighting has become a standard must-have characteristic for many companies. Consider going for a keyboard which has fully customizable RBG lighting so that you can change the lighting patterns whenever you want.
Nature of the Key Caps
Remember keycaps are the part you will be contacting most, so you should be mindful about their nature.
The common types of key caps are:
ABS key caps- These keycaps look shinier and smoother but their marking may fade over time. They may also retain oil and fingerprints from your fingers
PBT key caps- these keycaps have a rougher texture and will not show your fingerprints or retain grease.
Final Verdict
Low profile mechanical keyboards are optimized to suit various uses, like gaming and prolonged typing. The keyboards are thinner, have small keystroke distance, narrower actuation, and occupy small space. Our experts have come up with the above low profile mechanical keyboards as the best in the market today. All of the above options are perfect for gaming, and it just a matter of which one appeals most to you. However, the best ones for office use are Corsair K70 RGB MK.2, CorsairK60 RGB, and Logitech G915. Remember to consider all possible factors and reviews before making your purchase.