The Front Panel Connectors are a set of connector pins on your computer's motherboard. They are sometimes referred to as Front Panel Header. And they are used to integrate some control functions on the computer case
The front of your desktop computer case usually has a number of control buttons, such as the power button, reset button, speaker, or indicator LED for power and disk drive activities. So wiring from this panel to the front panel connectors on your motherboard is the requirement as well.
As you may be aware, motherboards are available from a variety of manufacturers. These motherboards share the feature of having headers for connecting to the front panel. Some motherboards have clear markings on the circuit board's face, while others are a little more difficult to identify.
If you're trying to build your own desktop PC and are having trouble with these front panel connectors, this article is for you.
RELATED: Motherboard Components – A Guide To Building Your Own PC
Let go over this topics in greater depth.
What Is The Front Panel Used For?
Usually there are a number of control buttons and function indicators located on the front of the PC. They are intended to facilitate the user when using the computer.
Power Switch: Used to turn on and off the computer. It corresponds to the PW header (two-pin) on the motherboard. On some motherboards it's named PWR_BTN header, or some other types (such as MSI motherboards) are not named.
Reset Switch: Used to restart the computer.
Disk Drive indicator: They will light up when the disk drive performs read and write processes.
Power Indicator: This light indicates that your computer is running, hibernating, or shutting down.
Speaker: When your computer boots up, it checks the internal hardware for compatibility. This procedure is also known as power-on self-testing (POST). Following the POST process, it will either send a single beep to indicate that the system is compatible or an error beep code to notify the user that the system has failed.
With different motherboards, the layout of the front panel headers is also different. We'll take a look at some of the popular manufacturers.
Various Types Of Front Panel Connector
Front Panel Header On Motherboard
Having said that, each motherboard manufacturer has a distinct front panel header layout. Below, we'll look at some popular brand motherboards.
ASUS Motherboard
The layout of ASUS's front panel header is relatively clear and recognizable. They are identified by the name F_PANEL (some named as PANEL). This header assembles a set of pins for most of the functions. Speaker beep code shall be connected to a separate header named as SPEAKER.
GIGABYTE Motherboard
GIGABYTE motherboards, like ASUS, have a front panel header on the board's corner labeled F_PANEL. They have a full set of pins for basic functions.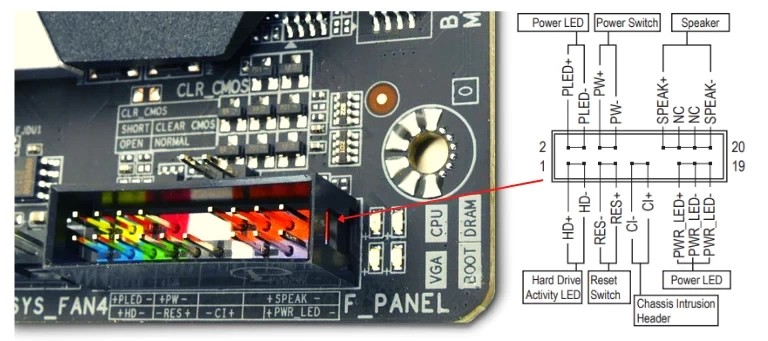 MSI Motherboard
MSI's motherboard has two lines of front panel headers labeled as JFP1 and JFP2. Most of the front panel functions will be provided from JFP1, while the speaker beep code will be available at JFP2.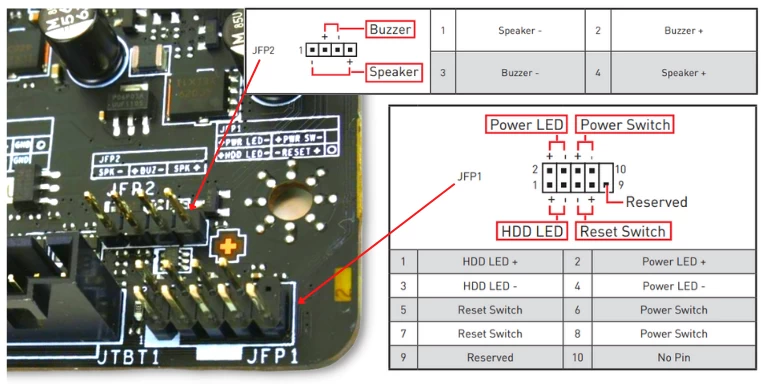 ASRock Motherboard
The front panel header on ASRock's motherboard is labeled as PANEL1. They include pins for almost purposes other than speakers. SPK PLED1 headers include pins for speaker beep code as well as an additional option for the disk drive indicator (in case using 3-pin connector).
Front Panel Cable Connectors
Front panel cables are typically come with PC cases, with one end pre-soldered on the front panel by the manufacturer and the other end enclosing connectors for plugging into the motherboard. These connectors are clearly labeled and should be plugged in according to the instructions on the motherboard. To avoid confusion, you should carefully read the attached manual.
POWER SW: 2-pin connector used for the power button to turn on the computer. It also can be configured to power off. This connector is plugged into the PW (or PWR_BTN) header on the motherboard.
RESET SW: 2-pin connector to connect the reset switch on the front panel. If the computer freezes and cannot be restarted normally, use this button to restart it.
POWER LED (+/-): This is a 2-pin connector for the power status indicator on the front panel. This indicator light will illuminate when the power is on. It will turn off to show the status of the PC sleeping or shutting down.
HDD LED (+/-): Disk drive activity LED is connected via a 2-pin connector. When the disk drive is read or written, this LED will light up or flash.
SPEAKER: This is a 4-pin connector for speaker beep code. After POST, the system will send a beep code to notify you to boot OK or issue a hardware incompatibility warning.
Notes On Connecting The Front Panel Header
Not All Motherboards Are The Same
Front panel headers are not labeled the same way on all motherboards; they are marked differently depending on the manufacturer. Even motherboards of the same brand can have these headers in different places. As a result, you should always read the user manual to identify and make the correct connections according to the manufacturer's instructions.
Various Functions Of The Front Panel
The features listed above are typical of most PC front panels. In fact, some PC cases do not include the speaker beep code or omit the reset switch. While headers for these features are always present on the motherboard. The absence of these features is insignificant. Startup errors (if any) may be displayed on the screen. Alternatively, the power button (PW) can be configured to add a power off feature to restart the system every time it freezes and is unable to restart normally.
RELATED: Best Smallest ATX Cases

RELATED: Best White PC Cases
Audio Headers
Some PC cases arrange headphone and microphone jacks on the front panel. To make these audio jacks functional, your motherboard must have an audio header for the front panel. It's a 9-pin header, also known as a 10-1 pin (with 1 blank pin to prevent misplacing).
Again, the audio headers on motherboards from various manufacturers are labeled differently. ASUS, for example, calls it AAFP (Analog Audio Front Panel), while GIGABYTE names it as F_AUDIO (Front Panel Audio Header).
USB Headers
The front panel of most PC cases today includes a USB port. These ports provide users with additional connectivity and are very convenient. Corresponding to it are the built-in cables that come with the PC case. Front panel headers for USB commonly found on motherboards are USB 2.0 (10-1 pin) and USB 3.0 (20-1 pin). USB 3.0 Type-C headers are less common, appearing on only a few motherboards.
Final Thoughts
The front panel and its functions are simple, clear but useful. You can use the front panel to control your computer, use the USB ports for your own work, or even listen to music, voice chat at your convenience.
You've also noticed that different brands' front panel headers have different naming conventions and motherboard layouts. Always carefully read the user manual before installing anything.