65% keyboards are considered affordable alternatives to regular full-size keyboards because they are efficient, portable, and comfortable when performing tasks. There are numerous 65% keyboard brands proliferated in the technological world, offering users a diverse innovation portfolio. Essentially, selecting a 65% keyboard comes down to personal preferences to guarantee freedom that suits personal use.
Flagship versions of 65% keyboard brands have been released, making selection a daunting task among users. The ability to purchase a 65% keyboard that suits your need and use requires a clear understanding of the device's dynamics, specifications, and benefits.
Specifications such as form factor, weight, dimension, battery life, and switches are vital considerations that determine if a 65% keyboard fits into your professional or entertainment needs. You absolutely don't need to spend a fortune for a guideline that points you towards a decent keyboard.
How do you ensure you select the right 65% keyboard? To assist you in deciding which is best for you, we have compiled a list of 6 best 65% keyboards based on various criteria that can help you get the most out of your day.
---
---
---
---
---
---
---
Our Top Picks: Best 65% Keyboards
The Best Overall
ASUS ROG Falchion
Features Explained
ASUS ROG Falchion is ranked as an overall best 65% keyboard. The keyboard is designed with extended battery life for maximum performance. Its interactive touch panel makes adjustment and customization of controls faster and easier. Aura RGB is an advanced feature that provides an endless spectrum of lighting control to meet color effects. The mechanical keyboard cover case offers a full range of on-the-go protection from liquid and dust.
The ASUS ROG Falchion was ultimately designed for gaming purposes. Its keys feature Cherry MX Red (German-made) switches and PBT keycaps that provide a sensational gaming experience to users. Cherry MX Red switches are linear and sensitive. They are popular and suitable among gamers since the switches require less force to press and respond faster when registering the keystrokes. The keyboard is popular among gaming enthusiasts and also suitable for general use.
Benefits
ROG Falchion keyboard dimensions (similar size as a 60% keyboard) provide functions of a normal keyboard without compromise and without taking up a great deal of desktop space.
An innovative touch panel can be customized as a macro key for exclusive intuitive controls.
The Best Premium
Drop ALT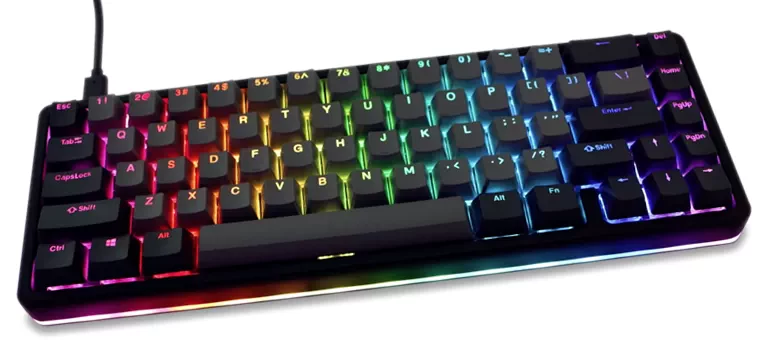 Features Explained
Drop ALT is attributed as the best premium 65% keyboard designed with an outstanding anodized aluminum frame, offering a rock-solid setup. Worried about soldering? Don't be. Drop ALT is highly-customized with hot-swap switches that enable users to rapidly change switches without requiring soldering. The 65% keyboard is optimized with RGB backlighting and underlighting functionalities for each switching and per-key pressing to give a color-keyed visual response and aesthetic.
Drop ALT features a compact layout of 67 keys that are fully programmable to allow users to have control over keys and fine-tune them for gaming and typing. It is also suited with a two USB connector (type-C), enabling users to power devices at USB 2.0 speed and transfer data. It has Doubleshot PBT which involves molding two plastics together when creating the keycap. Suitable for gaming and typing.
Benefits
It provides a range of customizations that suit individual preferences, including lighting and control.
Keys are macro-programmable.
Best 65% Mechanical Keyboard for Gaming
Durgod Hades 68
Features Explained
Durgod Hades 68 is designed with amazing features that make it the best 65% keyboard for gaming and typing. Equipped with anti-ghost innovation, the keyboard supports an N-key rollover, enhancing the capability to scan key presses individually when a registered command has several simultaneous keystrokes. Durgod Hades 68 is an elegant and compact 65% size mechanical keyboard, offering extra flexibility for positioning. An impressive feature that any gamer will appreciate is its RGB Backlighting, allowing per-key customization based on individual preferences. It boasts 16.8 million color combinations, multiple lighting effects, and adjustable visual brightness levels.
In terms of key switches, the keyboard is optimized for diverse key switches ranging from Kailh, Cherry MX, and Gateron, all offering distinct click experiences. Cherry MX Blue version has tactile feedback that delivers audible clicks with noticeable bumps. Users are able to experience the clicky sound when keystrokes are registered, giving clear audible, and noticeable feedback. This is owed to the fact that Cherry MX Blue is designed to produce the highest form of tactile feedback via an audible clicking sound. Users release the key once they feel a noticeable bump accompanied by a clicky sound halfway through the press.
In contrast, Kailh Boxes has linear switches as a default defining feature, making the click feedback less audible for an exciting experience. Linear switches are popular for general users, particularly in offices where a noise-free user experience is required. Users fully press the keys in order to be satisfied that the press is registered. The mechanical keyboard has improved specifications in a keyboard through its fantastic two power cable options. Users can select between two different USB cables, USB Type C to USB Type C 3.3FT (1m) and A USB Type C to USB Type A 5.9FT (1.8m). Suitable for gaming and general typing.
Benefits
Numerous key switch choices
Two USB ports
Allows color customization based on user preferences
The Best Wireless 65% Mechanical Keyboard
Keychron K6

Features Explained
Keychron K6 is a 65% compact layout wireless mechanical keyboard compatible with Mac and Windows, designed to ensure reach and maximize workspace. The wireless feature that allows pairing with up to 3 devices via the Broadcom Bluetooth 5.1 makes it a suitable choice for use with a range of devices. The K6 also has a wired mode that facilitates USB Type-C connections.
Keychron K6 is suitable for both Windows and Mac. For Mac users, it comes with a Mac multimedia key layout. For Linux enthusiasts, it provides convenient accessibility to fundamental functional keys. Keyboard users tend to love a variety of color backlighting options, while some find extra visual effects distracting. With K6, users have the option of selecting between white backlighting and RGB options. The RGB illumination has an enchanting available in 18 types of flashing modes.
An equally impressive feature is its diverse switch types, including standard Gatron, hot-swappable, and LK optical switches, which come in different colors, blue, brown, and red. Besides, the mechanical keyboard has a large 4000 mAh battery that can last up to 240 hours (with backlighting off). Suitable for gaming and general typing.
Benefits
Has the largest battery in mechanical keyboards for long-lasting gaming and typing
Facilitated wired and wireless connections
Allows static and customized color backlight modes
The Budget Choice – Wireless 65% Mechanical Keyboard
ROYAL KLUDGE RK68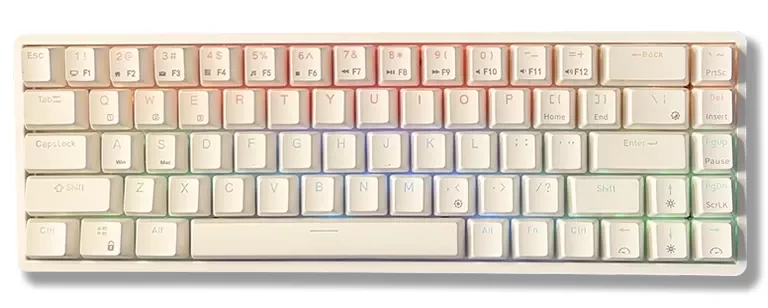 Features Explained
ROYAL KLUDGE RK68 is an elegant and reliable 65% keyboard with a compact layout and is compatible with macOS, Windows, and Android. It is designed with three-mode connectivity (Bluetooth, USB, and 2.4Ghz wireless) that provide users with a limitless connection.
At first glance, ROYAL KLUDGE RK68's magical lighting provides a charming and sensational mood for gaming. With ROYAL KLUDGE RK68 you will notice the color scheme offered by the dynamic blue RGB backlighting mode that brings glow and mood to your gaming experience. Unlike other mechanical keyboards with RGB backlighting with multiple color schemes, ROYAL KLUDGE RK68 only has a single blue LED backlight that hypes the gaming or typing experience.
Beyond its visual aesthetic, the mechanical keyboard has a 1450mAh battery for 13 hours of continuous usage, with a 3-4 hours fast recharging time. The hot-swappable mechanical switch is at the core of the ROYAL KLUDGE RK68's innovation. Hot-swap PCB enables users to replace 3 pins/5pins relatively, without the need for soldering. Take advantage of the hot-swap feature to compromise both click feedback and tactile to customize the best switch that suits your needs and satisfies your typing and gaming experience. Tactile switches provide tactile feedback as a confirmation of registration of keystrokes. Suitable for gaming and office/home use.
Benefits
Cost friendly
Three-mode connectivity (wired and wireless)
Efficient compact layout
Compatible with macOS/Windows/Android
The Budget Choice – Wired 65% Mechanical Keyboard
LTC NB681 Nimbleback
Features Explained
If you prefer a 65% keyboard that features a blend of a more compact and practical aspect, then LTC NB681 Nimbleback is the ultimate choice for you. LTC NB681 Nimbleback is a 65% mechanical keyboard designed with a compact but practical layout that ultimately balances the merits of functional and space-saving properties.
The mechanical keyboard is integrated with the hot-swap replaceable switches (3 pins/5 pins) that take your typing and gaming experiences to a whole new sphere of fun and entertainment. The broad-spectrum Brown switches adhere to the merit of low noise and tactile bumps to give a good combination of gaming and typing. Tactile Blue switches are characterized by a unique tactile bump and clicky sound that provide a satisfactory experience of typing accuracy and key pressing registry. Lastly, the linear Red switches are quiet and intended for gamers who require minimal resistance and swift reactions.
The 65% keyboard has 2 built-in USB ports that allow users to directly connect periphery devices, such as flash drives, to the keyboard. The wired connection (Type C) guarantees faster and more secure data transmission. The general appearance of the keyboard features an ergonomic 5-angle design with two folding feet that assist in minimizing fatigue.
LTC NB681 Nimbleback is available in 18 RGB backlighting modes, with 9 color schemes and 5 adjustable levels of backlight brightness, all of which allow you to customize the colors according to your preferences and needs. The ability to customize a 65% mechanical keyboard based on user preferences and needs is an anticipated feature that makes it the best. In this context, the RGB backlighting gives the LTC NB681 Nimbleback a competitive edge in user preference.
Benefits
Supports color customization based on user preference
Allows direct connection of periphery devices into the keyboard
Have an In-Depth Understanding of 6 Best 65% Keyboards Before You Buy
What are 65% Mechanical Keyboards?
In recent decades, the proliferation of mechanical keyboards has been embraced as a result of their slick design, advanced features, portability, and excellent typing and gaming experience. Mechanical keyboards come with diverse layout options and form factors.
However, there are some rhetorical questions in your mind like, what is a 65% mechanical Keyboard? Who can use or not use a 65% keyboard? Well, this section provides a comprehensive understanding of what exactly a 65% keyboard is.
Just as the name suggests, a 65% mechanical keyboard corresponds to the number of physical keys on a keyboard. These keyboards are designed with only the alphanumeric, arrow, and modifier keys, with no navigation keys or function row.
Layout, Capsize, TKL
The 65% keyboard optimizes layout and size to create an ultra-compact keyboard defining its practical functionalities and space-saving property. Unlike traditional larger (full-size) keyboards that integrate a row of function keys, navigation keys, and numpad on the right side of the keyboard, in mechanical keyboards that remain compact in size with a form factor of 60% or 65% they have been eliminated.
Elimination of the Numpad and function keys ensures the 65% keyboard is compact to save desk space, is portable, and comfortable to use for typing and gaming. Generally, 65% keyboards are designed to have approximately 66 to 68 keys that combine a lot (80%) of TKL (Ten Key Less) functionalities, providing users with all the relevant and appropriate keys for different use.
Things to Consider Before Purchasing a 65% Keyboard
Mechanical keyboards are for anybody intending to enhance their overall user experience by means of a high-quality device. The need for a 65% keyboard depends on personal interest and work requirements. They serve as a powerful innovation for individuals whose profession greatly rely on typing and can also be of great use for passionate gamers.
Here are a few guidelines that might help you determine if the 65% keyboard suits your use:
If you frequently use the Function keys, you might require extra time to adjust pressing them using the Fn key. Users tend to feel a little uncomfortable during the adjustment period.
A downside aspect of the innovation is that the non-standard keys make key swapping a difficult process. 65% keyboards have non-standard layout that presents challenges when searching for after-market keycaps. In this context, ensure you conduct adequate research prior to purchasing and switching out the 65% mechanical keyboard keycaps.
Recommendations
65% keyboards are largely a matter of user preferences and intended use, which are all driven by attributes that appeal differently to users. Based on the above specifications/features and benefits, the recommendations below are drawn from the suitable usability and distinctive features that will be highly appreciated among users.
Ergonomic Option
The ergonomic option offers a unique feature that is difficult to find among the 6 best 65% keyboards. LTC NB681 Nimbleback is designed with an ergonomic feature that makes typing more comfortable. Unlike other 65% keyboards, which are flat and rectangular to ideally out your wrist and arms in an unnatural typing or gaming position, causing fatigue, the ergonomic design facilitates a natural position that reduces fatigue and strain.
If you spend long durations typing, consider the LTC NB681 Nimbleback an ultimate choice for maximum productivity and a more comfortable typing or gaming experience.
A Wide Range of Switches
If you are searching for a sing 65% keyboard that got almost everything right, then the Durgod Hades 68 is definitely the optimum choice for you. Despite having adequate RGB backlighting for visual aesthetics, a similar feature shared by other 65% keyboards, Durgod Hades 68 offers a wide range of switch options that work for most users.
It features the Kailh, Cherry MX, and Gateron switches, all of which provide distinct click feedbacks that enrich gaming and typing experiences. The three different switches offer responsive feedback that can withstand multiple key presses. Many users will appreciate the switch options that suit their diverse needs and tastes.
All-Inclusive
Users looking for an all-inclusive 65% keyboard with comprehensive features are highly encouraged to go for ROYAL KLUDGE RK68. It also includes a hot-swappable switch feature that supports key switches without soldering. Besides, the ROYAL KLUDGE RK68 offers three-mode connectivity (USB, Bluetooth, and 2.4Ghz wireless). The 65% keyboard that embraces wireless technology is fitted with a long-standing battery that guarantees maximum productivity in between charges.
Wireless innovation assists individuals in avoiding the tangled mess of wires that makes a working space chaotic. In this sense, the ROYAL KLUDGE RK68 complements the advantage of wireless innovations that have been rolled out and also provides an alternative wired connection through a USB cable.
The 65% keyboard is the best choice for people working with a tight budget without the risk of compromising features and specifications for regular users. The ROYAL KLUDGE RK68 is ranked among the best cost-friendly 65% keyboards. It not only helps individuals save but acquire a 65% mechanical keyboard with the best features (1450mAh battery, Hot-Swappable Switch, and RGB Backlighting) at a cost-effective price.
This article has looked into the 6 best 65% keyboards currently available in the market, taking into consideration the unique features and mind-blowing specifications that might guide your buying decision and relatively contribute to enhancing your typing and gaming experience.
Conclusion
The 65% mechanical keyboards market offers plenty of keyboards with diverse compact form factors. In addition to the compact form factor of the 65% keyboards that provide suitable usability, the distinct features of different 65% keyboards are highly appreciated among users. With the functionality and working specifications of the 6 best 65% keyboards understood (ASUS ROG Falchion, Drop ALT, Durgod Hades 68, KEYCHRON K6, ROYAL KLUDGE RK68, LTC NB681 Nimbleback), their usefulness in different professional fields and gaming can be easily grasped.
These keyboards are integral for individuals allied in the home or office environments, such as programmers, copywriters, transcriptionists, and typists, because their tactile and linear feedback makes typing more enjoyable as you are certain a press has been registered.